Day 7). America's favorite female celebrity becomes the prime suspect
in the mysterious death of a homeless man. – Miss Perfection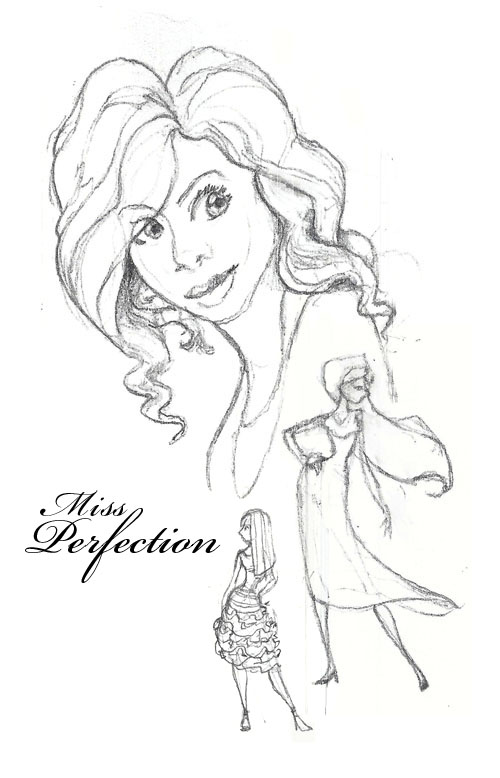 First thing, if you think the main sketch looks like my wife, we both agree
with you.
Here's an adaptation by the talented Jessie Kate Patterson, who I felt captured
the charisma vs. frustration aspect I've been searching for: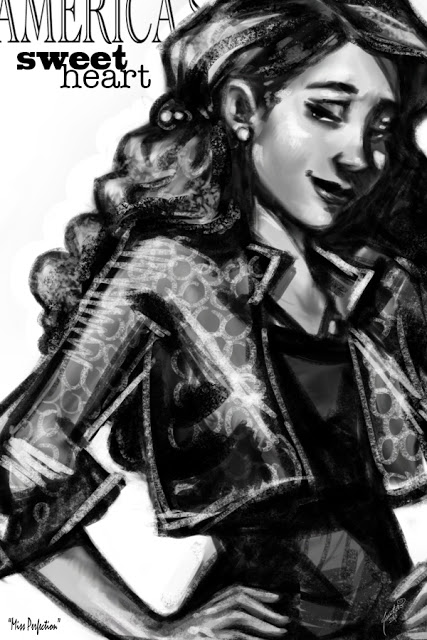 The WhoDunit genre has been quite popular over time, mostly as
murder mysteries, but my favorites in this genre are the series "Touched By
An Angel" And "Early Edition" because they explore beyond the popular
Murder Mystery movement. And my idea sounds like a murder mystery, but
it's a little bit more...
As they investigate Miss Perfection, they start to notice something strange -
she can stand next to anyone and do what they do better - this almost seems
like a superpower (remember this character from my last marathon? She's in
the reference below). And even more strange, people can't be near her without
becoming depressed and feeling "drained of their abilities." Then we discover
that she actually dated this homeless man : he didn't have much to lose and
was charming and extremely interesting in a quirky sort of way. And best
for her, he never became depressed around her - until one day he collapsed on
a bus, she paid someone to drive him to the hospital ... and in the end, he was
simply so drained from spending time with Miss Perfection, he just needed to
sleep for a week (a sleep so deep that even an autopsy couldn't detect his life).
"Wait," you might say, "You mean he doesn't die." That's what I said.
I think there are some fun complexities and entertaining routes to be explored
in this story! Below you'll see some inspiration sketches : Yep, that's Johnny
Depp, Lady Gaga, and gymnast Nastia Liukin: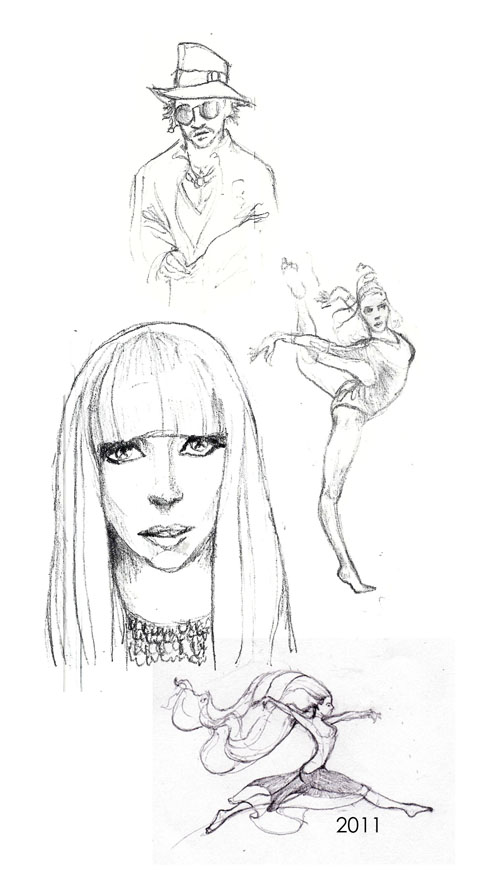 "Save The Cat" genre for today : "Whydunit"
Rules: The Who is not quite so important as the Why when investigating
the crime.
Thanks for reading and please leave your thoughts in the comments below!
Misfit Supers $2 off code: T4G5TJQJ